All fruits, vegetables and flowers are dying from the moment they are harvested; continuously losing moisture, nutrients, weight and value. Refrigeration slows down this spoilage somewhat, but extracts moisture and requires open cartons, continually exposing the contents to bacteria and pathogens during shipment and logistics. Existing methods of sanitation for the reduction of pathogens are minimally effective.
---

The World is changing rapidly…we have a hungry World with populations increasing at alarming rates and new emerging economies.
Low cost production areas, located in developing countries, are commonly distant from emerging markets and consumers. Mexico is a prime example: using the latest, improved production technologies, Mexico is able to produce more fresh fruits and vegetables than its current market, the USA is able to consume. Mexico must reach new markets in Europe, Asia and the Middle East.
Logistics must be cost effective, efficient and carbon footprint friendly. Distribution increasingly requires the use of freight efficiencies, including rail and sea / land vessel, both of which require lengthy time spans, often up to 40 days from date of harvest to delivery to consumers. Air freight will not be a viable option for supplying the world's growing population.
Developing countries are discovering that the key sector which they can use to rapidly improve employment and local commerce is agriculture, through the expanded production and exportation of new varieties of fresh fruits and vegetables.
Food Safety is "top of mind" in the USA, Europe and Asia. Fruits and vegetables must be packed and transported in sealed cartons to assure safety as they pass through many environments throughout the logistical and storage processes.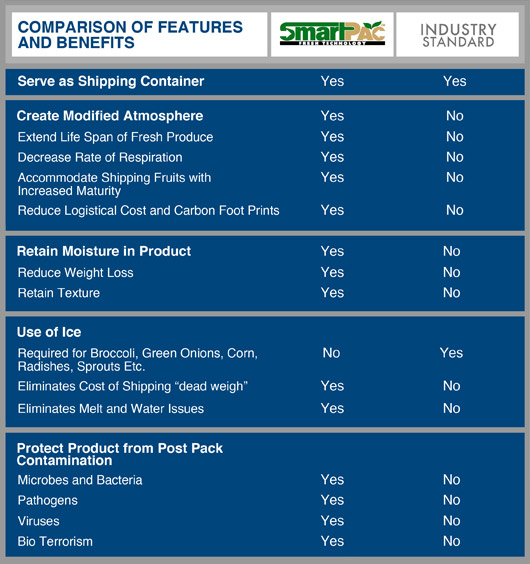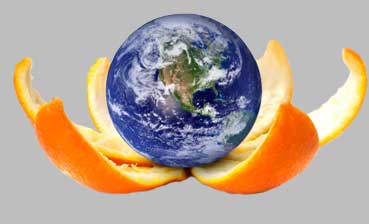 Reducing transport, spoilage and handling costs

Enabling consumers to enjoy better tasting fresh food anywhere, at any season

Significantly reducing food safety risks

Decreasing the industry's carbon footprint

Improving the value and quantity of domestic and developing countries' food exports